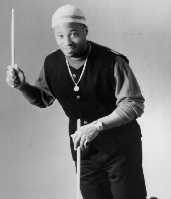 Biography
Winard's first major gig was with Dexter Gordon in 1982, and shortly thereafter with Johnny Griffin. It wasn't long before Winard's drumming skills captured the attention of Betty Carter. He spent four years working with Ms. Carter's band, inevitably honing his jazz-as- entertainment sense of showmanship.

During the years that Winard worked as a sideman to some of the greatest living jazz artists, he also laid down the foundation of what would eventually become The Harper Brothers band. He and his brother Philip would play whatever pick-up gigs they could find in their new home town of Washington. DC. What evolved was the band that would blaze a brilliant trail both on the charts and on the international touring circuit.

"Man for man, The Harper Brothers Quintet, a group formed four years ago by drummer Winard Harper. 27... introduced Tuesday evening at Catalina's, is the most brilliant new jazz group of the new decade," declared Leonard Feather in his review of the band's performance in Los Angeles in April of 1990. And so they were. Remembrance, the band's second album, recorded live at New York City's legendary Village Vanguard, went to #1 on Billboard's jazz chart in 1991.

And it stayed at #1 for two months. "On Artistry, an inviting follow-up to the superb Remembrance, the group again delivers memorable compositions, solid swinging and tasteful solos," wrote Jazz Times. "The band is tight...musicians who listen and breathe as one."
Winard has opened new doors with a new level of jazz music with spiritual sounds of African Drums. Even though he is dedicated to the Jazz idiom, Winard Harper has a flavor of reaching everybody young and old. Winard is now on his way to another release with Savant Records. His last recording made #2 on the Gavin Radio Charts.

Constantly in reverence of his predecessors while remaining innovative in his own right, Winard is one of the most celebrated drummers in jazz. He is a virtuoso on the cymbals, as pleasing and entertaining to watch as he is to hear. "As tasteful a drummer as one could ask for," according to Jeff Kaliss of JazzTimes.