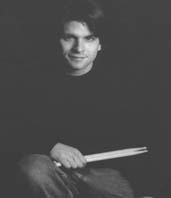 Biography
Dave DelGangio was educated at Boston's Berklee College of Music and the Drummer's Collective in Manhattan, New York. There, he concentrated on Afro-Cuban and traditional jazz, composition and arranging. He has performed with Brad Catron (Neville Brothers), The Delmonicos, Gregory Maskalic from Doc Severenson and Maynard Fergeson, BB and the Stingers, The Joe Franklin Big Band and others. He has also played with Broadway pit bands including "How to Succeed in Business Without Really Trying", "The Wiz", "Anything Goes", "Marat Sade", and "Once Upon a Mattress"

He achieved the Purcussion Excellence Award from the Pearl Drum Company for a Championship performance with the 1990 Cadets of Bergan County.

Dave continues his professional career in performance, studio sessions, private instruction and composition.